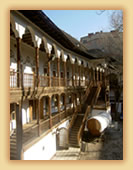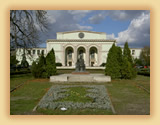 After breakfast on Saturday morning, you will take a sightseeing tour of the city. You will discover the eclectic French architecture of central Bucharest. Accompanied by your guide, you will stroll across the narrow commercial streets of Lipscani district down to the ruins of the Princely Court and its Church of the Annunciation, the oldest edifice in Bucharest. In the same street, the historic Manuc Inn is the place where tradesmen and merchants used to lodge and do business. You will thus get to know the ever-changing history of the Romanian capital, along with its diverse art and architecture.

From the ruins and structures of the Middle Ages to the late 18th century merchant houses to the eclectic architecture of the 19th century to the modern buildings of the 1920's and 1930's, you will learn, in only a matter of hours, the fascinating history of this south-European city.

The Revolution Square with its Royal Palace, Romanian Athenaeum, Bucharest University Library and Senate Palace (former seat of the Romanian Communist Party) will provide you with the setting for the contemporary history of Romania. From the contribution of the monarchy to the profound marks left by the communist regime, you will get to know the history of the city and of the entire country.

The subsequent visit to the Palace of Parliament may provide not only an aesthetic shock, but as well a comprehensive insight into the recent history and Romania's communist regime.

After lunch in a central restaurant, you can go shopping with the help of our guide, or take another sightseeing tour, depending on your mood (see also list at Bucharest Sightseeing Tours).
We will end the evening with a musical performance and dinner (at a restaurant at your choice). You may like to see an Opera show or attend a concert in the beautiful Romanian Athenaeum building. Built in the late 19th century by public subscription, this represents both a temple to music and the arts and a favourite symbolic building of the city.